We are pleased to offer an online payment option for our existing clients with accounts already established. Retainer payments (pre-paid services and costs) cannot be paid by credit card. Please call us at 314-872-3333 if you have any questions.
Please review Terms and Conditions below  before making your payment.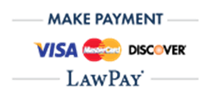 Credit Card Payment Terms and Conditions
Payments, including online payments, made to our firm are subject to the Terms and Conditions provided below and are governed by the fee agreement applicable to each matter. If you have any questions, please let us know.
Credit Card Processing and Fees
We gladly accept credit cards. We may request that you provide written authorization for credit card transactions. For credit card transactions in excess of $1,000, we may elect to charge a processing fee of three percent (3%) of the transaction amount. Refunds and chargebacks will incur a fee equal to the greater of our actual fees and costs or three percent (3%) of the transaction amount. Refunds for funds deposited by credit card to our trust will be made, at our election, either by refunding the amounts owed to the same card or by check issued upon a reasonable period of time to allow us to assure valid funds.
Limitations on Payment by Credit Card
Payments by credit card cannot exceed $5,000.00.  Cost expenses (e.g. filing costs and/or other material items) may not be paid by credit card if the cost(s) exceed(s) $100.  Please contact our office to discuss payment options for cost expenses, or pay separately by check made payable to: Affinity Law Group, LLC (include a reference to your account number or invoice number).
Requirement for Engagement Letter
Any payment made via this process does not create a relationship of client and counsel. We reserve the right to reject payment in the absence of a complete, written engagement letter signed by both parties.