Affinity Law Group is a mid-sized business law firm committed to serving privately held businesses, and their owners and executives, from startup to succession. Our clientele includes local, national, and international companies in a wide variety of industries. In addition to partnering with businesses for legal services, Affinity also provides a range of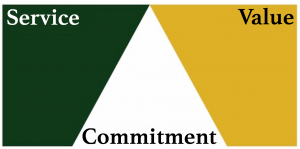 services to fit the needs of individual clients through all stages of their lives. Our professionals are at your disposal to complement your existing legal team or to become your team to help you further your business growth and take care of personal legal matters by introducing you to our network of trusted professionals; including accountants, commercial lenders, private equity firms, investment bankers, insurance agents, marketing firms, and more.
Our mission is to meet the needs and exceed the expectations of our clients, colleagues and business partners–never pushing more than required and never providing less than deserved. Our business model is designed with one goal: to deliver maximum value to you and your company in an ever-changing legal and business environment.